Vocês sabiam que o primeiro livro a ter uma espada vorpal em sua história foi "Through the Looking Glass, and What Alice Found There" (traduzido aqui como 'Alice no País do Espelho'), de Lewis Carroll?

Escrito em 1871, "TtLG,aWAFT" (

ok, é melhor chamar de 'Alice 2', hehehe

) é a continuação de
"Alice's Adventure in Wonderland" (1865). Sua narrativa é "espelhada" no primeiro volume, com várias cituações ocorrendo de modo inverso, como o clima, ou de modo apenas diferente, como ao invés da temática de mudanças de tamanho do primeiro livro, temos a mudança de tempo no segundo.

Logo ao início do livro, Alice encontra um poema entitulado "Jabberwocky"
(por sinal, esse nome foi usado para criar o 'Jabberwock', monstro que é um tipo de único de manifestação da natureza que aparece na página 66 do MC Annual Vol3. Até mesmo o poema original está lá) :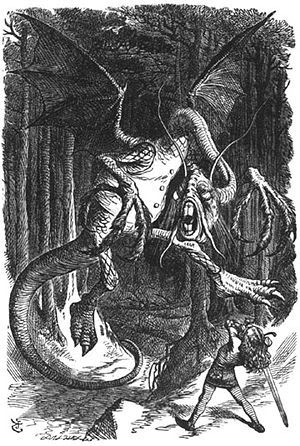 One, two! One, two! And through and through
The vorpal blade went snicker-snack!
He left it dead, and with its head
He went galumphing back.
Este trecho do poema fala como um garoto usa uma espada vorpal que, com alguns golpes, volta com a cabeça do Jabberwocky nas suas costas.
A espada vorpal apareceu no D&D pela primeira vez no Supplement I: Greyhawk (1976) como "vorpal blade" e depois no DMG de 79 como "sword, vorpal weapon". Seu poder seria o de decapitar o inimigo com um golpe preciso , e as regras para tal foram sendo modificadas no decorrer das edições de D&D.
De maneira geral, em AD&D você tinha uma espada +3 que poderia cortar a cabeça do adversário com resultados de 17 a 20, dependendo do oponente. Contudo, o OD&D tinha regras um tanto quanto diferentes:
-Vorpal Blade (Supplement I: Greyhawk)
+2 para acertar
corta o pescoço do inimigo sempre que atingir em 1d20 um resultado de 18,19 ou 20, OU se o resultado for acima de 10% do necessário (2 pontos acima do necessário), ela também cortará o pescoço. EX: se você precisa de um 11 para acertar, e tirar um 13, terá uma bela cabeça para decorar seu escritório. (Agora vocês entendem porque Gygax tirou as espadas Vorpal de Erac's Cousin!)
a espada somente funciona nas mãos de um guerreiro ordeiro (lawful), e se este guerreiro for um paladino, a espada ainda por cima da um dos poderes da Holy Sword: imunidade TOTAL num raio de 1".
É o típico caso de "com grandes poderes, vem grandes responsabilidades", visto que algo tão devastador só funciona plenamente nas mãos de um paladino (tanto a vorpal quando a 'sharpness' são espadas sagradas-sendo que a última
pode
vir a cortar além de membros, o pescoço também).
Afinal, não há nada mais sagrado do que cortar os braços e pernas de um inimigo!


-------------------------------------



(ps: obrigado ao Daniel por me corrigir no post anterior: todas as entradas de "Known World" estavam sem um "n" ao final de "Known")